Once the website is complete and uploaded, there is usually a significant relief. However, do you think that it is done for good? Your car, body, house, and website need periodic maintenance. Most people think that website maintenance involves fixing bugs after launching the site, but it entails more. Upgrading the website's visual branding, integrating with new systems and updates, or uploading fresh content is part of maintenance. A website is the first impression of your business, and this needs to be in line with the constantly evolving environment around you to not fall behind in the competition.
This article will discuss website maintenance, why it is crucial to web design firms and agencies, what's included in the website maintenance services list, and how much it costs to maintain a website. 
Let's get started!
What is website maintenance?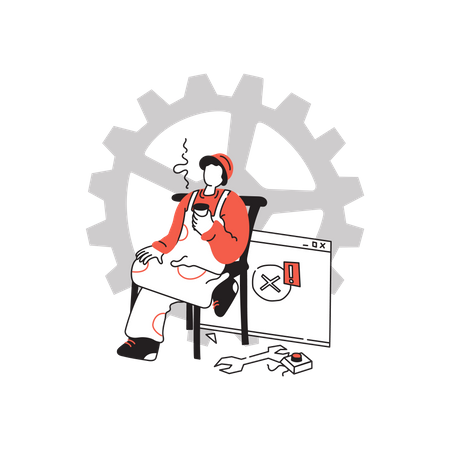 You need to perform regular maintenance on your website to keep it fresh, secure, and dependable. Website maintenance ensures that everything is entirely up to date and responsive. It improves your SEO and Google rankings without sacrificing traffic growth.
You must keep your website up-to-date, whether you're a large business, an individual, or a small business. It lets you interact and connect with targeted visitors and potential guests on your site while also preventing severe issues.
Examine whether your website's pages load rapidly and without any problems.

Create a backup of your website's data to verify that it is safe.

Make sure your site's software and plugins are up-to-date.

Examine all the forms to make sure they're working correctly.

Delete spam comments from your website's posts or pages.

Make sure there aren't any broken links on the pages.

Investigate your website for 404 errors and resolve them.

Keep your blog updated to keep your audience interested and returning.

Maintain control over their web hosts and ensure that everything is running efficiently.
And this is only the weekly evaluation. Monthly maintenance entails reviewing your website's speed, conducting security scans, assessing website analytics, revising blogs that need updating, etc. You should also assess the look of your website and your current advertising and marketing activities. The output of this task is a list of paraphrases of the input text.
It's about automating as many processes as possible to don't take up too much time. It entails reviewing your site's backups and testing them on different browsers to ensure they run smoothly. Here is the list of website maintenance services that one must check.
What is included in the Website Maintenance Services List?
We've already explained the basics of website maintenance. Let's look at the critical services in the Website Maintenance Services list.
1. Scan for Vulnerabilities
Website security should be the primary reason you maintain your website. Regularly scanning your website for vulnerabilities ensures that your website is not hacked or taken over. Check for the spam that may have surpassed your filters.
2. Repairs and Fixes
It is all related to errors, bugs, and broken links. Make sure both internal and external links are working correctly. A link checker identifies broken links that frustrate users and reduce the search ranking.
3. Browser Compatibility Testing
Ensure that all aspects of your site work well in the most commonly used browsers. You need to ensure that your website works well for people using older browsers.
4. Software Update
The critical software your site relies on should be updated. For example, the content management system, its themes, and plugins. If upgrading non-critical software is worth doing, then do it.
5. Website Backups
The database backups would automatically be performed every week, and it'd be restored at least once every six months.
6. Site Speed
It's important to check this before continuing. You can use Google's PageSpeed Insights tool to identify the issues causing your site's performance to be slow.
7. Search Engine Optimization (SEO)
With SEO, you identify any issues affecting your site's search engine rankings.
8. Analytics
Check the essential metrics of your website and the trends in those metrics using the Google Analytics dashboard.
9. Functionality
Ensure that all the essential functions like checking out, filling out forms, contacting us, etc, are functioning correctly.
10. Website Content
Updating website content makes them fresh and up-to-date for users and search engines alike, so keep doing it! Therefore, regularly review your content, fix mistakes, and upload new information with targeted words using a fresh style.
These are the basic guidelines for website maintenance services. A business may go further into it based on their website, but they shouldn't ignore it. Maintaining and nurturing the website is the most straightforward part of a company's online success. Maintenance ensures the website's performance at its peak by removing errors and security issues and delivering the best user experience to the customers.
Why is website maintenance necessary?
Your website is the first thing potential customers look for, and they're looking for relevant information, high-quality content, and expertise at the same time. Website maintenance is crucial during this time. Regular content revisions will help your website stay relevant and engaging, and they will also help your site maintain a high search ranking.
There are numerous other reasons to keep your website updated regularly, including:
Enhances User Satisfaction
View your website from a visitor's point of view. If the processing speed is slow, you might get frustrated when you click on a link, and it takes a long time to load. You will be happy if the website is maintained well, with good web design, and has the necessary details. After all, your primary concern is to provide a good user experience. Visitors will be impressed with a well-designed website, encouraging their use of your products and services. Additionally, they become brand promoters by suggesting your brand or product to their family and friends.
Improves Your SEO
Your website's primary purpose is to generate traffic, so updating your site with relevant data, news articles, keywords, and other content can help you stay current. Google favors websites that are well-optimized and deliver the most valuable content. However, if your website's redirects are ineffective, your company's search engine ranking will suffer. If Google finds any issues with your website, you may be deindexed.
Boosts Protection
There is nothing more essential than the security of your website, primarily if it stores sensitive data. It's essential to keep your website updated with frequent software upgrades and security patches to ensure its security and protection. Hackers may be interested in websites that haven't been updated for a long time. Furthermore, not addressing security issues for a prolonged period might result in downtime or even total business failure.
What does website maintenance cost?
Keeping your site consistent and working effectively requires regular maintenance. Many elements must be considered, including website design, marketing tactics, frequent software updates, and domain and storage costs.
Furthermore, the platform and functionalities you choose when creating a website impact its ongoing costs. There are significant differences between the costs associated with using a website builder versus using a content management system.
Domain names, web hosting plans, and SSL licenses are all included in website management costs because they are necessary for keeping your website active. Next, there are the costs of email accounts, specialized tech­nical support, and eCommerce service, which vary depending on the kind of website you're building.
Other costs such as web design, plugins, and SEO are necessary to improve the website's operation and increase traffic. The amount of money spent on each category depends on the needs of your website, so you need to determine which categories require the most attention. We'll cover nine substantial website maintenance costs to help you plan your website budget.
You're all prepared to keep up the excellent job with all these steps in mind!
Now that you know the average website maintenance cost, you can create an appropriate budget for your website. It's essential to keep in mind that your costs may vary depending on the type of site that you're running. An eCommerce store accepting payments online, for example, will likely cost more than a personal blog.
Website maintenance checklist:
If you follow an adequate maintenance schedule, your site will continue to serve as one of the best marketing tools for your business. We've created a checklist of actions to keep your website up to date and running smoothly for your visitors. Here's a comprehensive list of website maintenance tasks to keep in mind:
Website Maintenance Checklist every week
Verify for 404 errors and, if any exist, correct them.

To enhance SEO traffic, publish one or more blogs.

Check to see that all of the forms are functioning correctly.

Create a blog article to promote in your community.

Look for any broken links.

Plugins and software that are vital to the system should be updated.
Website Maintenance Checklist every month
Perform a security audit.

Check loading speed and resolve any errors as soon as possible.

Analyze the most important statistics.

Ensure that your website is visible in local searches.

Make changes to the material to make it more relevant.

Analyze the most and most minor prevalent content on the website.
Website Maintenance Checklist every quarter
Look for any areas where you can improve the content.

Graphics and images should be updated.

Meta descriptions and titles should be updated.

Keep track of your website's backups.

Check if popups, forms, and other features are functioning correctly.

Examine your website on the most widely used browsers and devices.

Examine the uptime logs – if it's less than 99.9%, take action.

Check to see if your site is mobile-friendly.
Website Maintenance Checklist every year
Consider updating your website's design.

Revise the copyright information in the footer as well as any references.

Domain names should be renewed.

Examine the content for accuracy.

Your best-performing blogs should be updated.
Conclusion
As the internet evolves, so too do the industry standards followed by web browsers, social media platforms, and other websites. You may have heard that SSL is becoming a requirement for websites and that not having it could damage how people view and find your website, but that's not true. SSL is a great security measure for your website, but it's not a user-friendly installation. And the work can be compensated by a regular maintenance contract if you manage it properly.
One of the best ways to supplement your monthly revenue is by offering website maintenance services. It will not only improve your sales but also help you to retain your current customers. Eventually, this will aid in your growth. You might need to invest some time and effort initially, but you'll succeed before you know it if you keep your goals in mind.
We hope that this guide has helped you see how crucial it is to include website maintenance services as part of your website design and to keep your website well maintained in the long run.
Contact Wpmaintenanceservice.com if you need a new website or want to upgrade your present one, aside from website design and construction and even more.